Kits for these projects are on sale now
HANDLE IT
A new project made from fork handles.
2008
REVERSAL OF FORTUNE
A reversable necklace with 2 sizes of rivoli crystals . The seceret is this necklace is reversible, a totally different color scheme on each side of the necklace.
2007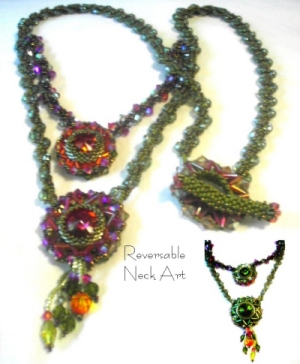 ADRIENNE'S BRACELET
Each oval crystal is held up by
woven seed beads and crystals walls
to allow light to catch the stones flash. 2007
CAPTIVE
Connecting walls can be placed any which way to create a lace effect.
2007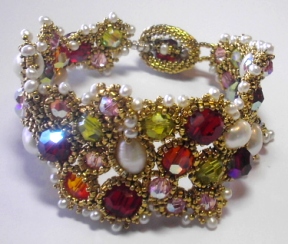 Dona Anderson
Bead Artist, Author and Educator


    I began my journey with beads in 1995 and
 
  have allowed the beads to lead me all over the country

sharing my designs with other talented and wonderful bead artists.

Watching how another artist will take my design and work it in a

totally different direction to make it unique for them is truly

rewarding as a teacher.


 


The first annual International Juried Jewelry Design Competition, "Celebrating Beads, the journey of..."That the Bead Museum, DC will be hosting this year.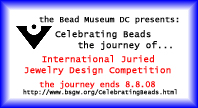 Bead Art
A design guide for amulet bags
A design guide for amulet bags of famous faces
Liza, Billie Holiday, Harlow,Kiss Me Scarlet and many more
Bead Art kits for sale
Follow the link to see theTom Cruise evening bag made for her
Take a minute to admire my student's work
Link to my early bead work
Also some amazing work of other talented bead artists