Eye of the Storm
This bracelet is designed for my friends in Louisianna. Scroll down for supplies and homework.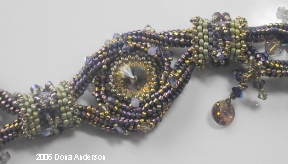 Students must be experienced in herringbone and peyote stitch. This is not a class for the novice beader.
Supply Sheet
One 14mm Rivoli Crystal
30 grams of Delica beads
PRE CLASS HOMEWORK

2 Herringbone ropes must be pre made before class.
Each rope should be 12 inches long and be 6 beads around Ladder stitch 6 Delica beads and connect the first bead to the sixth bead creating a ring and start the herringbone stitch for 12 inches. Complete 2 ropes. Be creative, mix colors or make each rope a different color. If using Fireline or Power Pro do not double thread. The ropes should not be stiff. If you are a tight beader try to make them flexible.

Two colors 10grams each of size 11 seed beads
2 colors 5 grams each of size 14/15 seed beads or Charlottes, one metallic color is recommended.
40 size 3mm crystals
20 size 4mm crystals
5 grams of Delica in a complimentary color to the ropes
Sixteen 2-inch long head pins
Eight 6 or 8 mm Round, Bicone, square or 6200 crystals or special beads or even small charms.
FOUR 6mm bicone crystals
Instructor will have Rivolis for sale
Pink, Gold, Teal, Olive, Crystal AB and Purple For $3.00 each